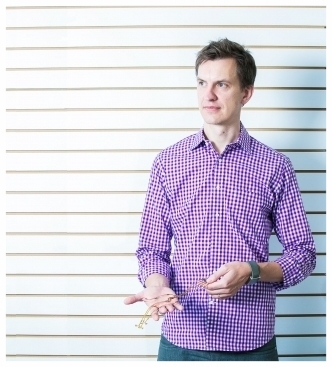 Associate Professor – UC Santa Barbara
Media Arts and Technology Graduate Program
Department of Electrical and Computer Engineering
Department of Mechanical Engineering (by courtesy)
Elings Hall, California NanoSystems Inst, Room 2213
Phone: 805 893 8352
yonvisell . at . ucsb.edu
Dr. Visell directs the RE Touch Lab, where we pursue fundamental and applied research on the future of interactive technologies, with emphasis on haptics, robotics, and electronics, including emerging opportunities in human-computer interaction, sensorimotor augmentation, soft robotics, and interaction in virtual reality. He is the General Co-Chair for the 2020 edition of IEEE Haptics Symposium, the premier conference venue for haptics in North America and longest running conference in the field. He also serves on the editorial boards for IEEE Robotics and Automation Letters and ICRA, and previously served as technical Program Chair for IEEE Haptics Symposium and for the EuroHaptics Conference.
Dr. Visell is Associate Professor at the University of California, Santa Barbara, in the Media Arts & Technology Graduate Program, Department of Electrical and Computer Engineering, and Department of Mechanical Engineering. Trained in engineering and physics, he received the PhD in Electrical and Computer Engineering from McGill University in 2011, working with Prof. Jeremy Cooperstock on haptics and virtual reality technologies. From 2011 to 2012, he was a postdoctoral researcher working on haptics with Prof. Vincent Hayward at Université Pierre et Marie Curie in Paris, France. Prior to joining UCSB, he served as Assistant Professor of Electrical and Computer Engineering at Drexel University (2013 to 2015) in Philadelphia, PA. He received MA and BA degrees in Physics from The University of Texas, Austin and Wesleyan University respectively.
Prof. Visell discovered his love for learning while growing up in an itinerant household. During grade school, a parent would drop him off at adult college extension classes. Later, he stumbled into competitions in math, physics, and foreign languages. He was the only one of four siblings fortunate enough to attend college, majoring in physics at a liberal arts institution. Today, he is grateful to be able to work with an array smart and industrious students and researchers from diverse backgrounds.
Our lab is committed to positively impacting the world through its research. We strive to follow the fundamental tenet of engineers, to "Hold paramount the safety, health, and welfare of the public" (National Society of Professional Engineers).
Dr. Visell's research has been generously supported through multiple awards from the National Science Foundation and other government agencies, tech industry companies, and philanthropic foundations. He has published more than 70 scientific works, and served as editor and author of two books on VR, including "Human Walking in Virtual Environments" (Springer Verlag, 2013). His work has received three awards and 11 award nominations at top academic conferences on haptics. Dr. Visell is a recipient of the National Science Foundation CAREER Award (2018), of a Hellman Family Foundation Faculty Fellowship (2017), and a Google Faculty Research Award (2016).
Dr. Visell also spent more than five years in industry working at technology companies. He was the digital signal processing developer at Ableton from 2001 to 2003, where he wrote algorithms that have shaped music produced by artists ranging from The Roots to Pat Metheny, Daft Punk, and Deadmau5. Prior to that, he was a research scientist working on speech recognition at Vocal Point Inc., which is now part of Nuance Inc. (makers of the Siri voice assistant). Prior to that, he designed an auditory display for underwater sonar at ARL, in Austin, TX. Dr. Visell later worked in interactive art, design, and robotics research at the University of the Arts Zurich, at FoAM, Belgium, at the Interaction Design Institute Ivrea, and at the art-architecture-technology group Zero-Th, which he co-founded in 2004. His creative works and activities have been presented at cultural venues including Ircam / Centre Pompidou (Paris, France), SIGGRAPH (New Orleans, LA), Phaeno Science Center (Wolfsburg, Germany), La Gaité Lyrique (Paris), the Oboro Center (Montreal), and the Biennale of Design St. Etienne (France).
Visell produces and hosts a weekly radio program, The Unknown Territories, about contemporary science (and adventurous music) on KCSB FM with co-host Irene Moon. He is also active in live experimental audiovisual performance.
Dr. Visell has served as an expert consultant to industry and as an expert witness in intellectual property matters before the International Trade Commission and USPTO.